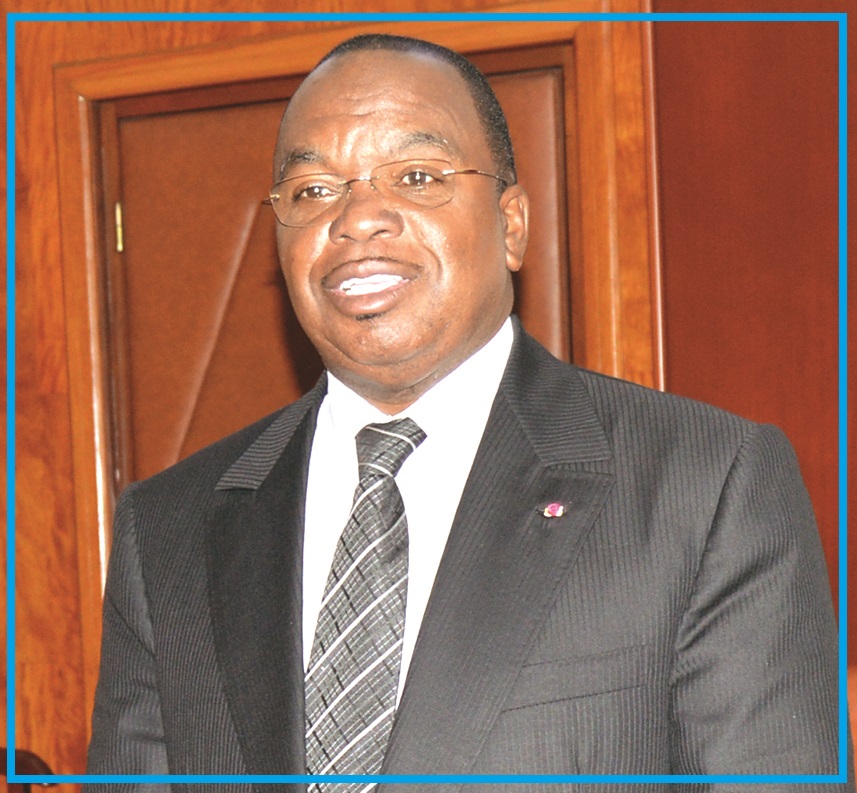 Louis-Paul

MOTAZE
Minister of Finance of Cameroon
Dear Internet user, it is with pleasure that I welcome you to my official website. Thank you for spending your precious time visiting my web page among the millions of pages and websites that exist on the web. You will find in my little online space, the news of the Minister of Finance that I am, my opinions, my speeches, my career and sometimes documentations to download for free. Have a good navigation in the various sections of my website. Also, I invite you to follow me on your favorite social networks.
"The digital society that is coming will not be waiting for those who are late." The message is that of the President of the Republic, His Excellency Paul Biya, on 31 December 2018, in his address to the nation. In today's digital age, it is important not only to digitalize public services as recommended by the President, but also to be present on the Internet and social networks. In order to better communicate on public actions. Especially in order to bring good information into this cyberspace sometimes, and unfortunately, flooded with erroneous information or fake news. The President of the Republic, His Excellency Paul Biya, speaking on 10 February 2018 on the traditional occasion of the Youth Day, called on all his compatriots, especially young people, to show "patriotism" on the Internet. "Be patriotic Internet users who work for the development and influence of Cameroon and not passive followers or naive relays of the Republic's critics… Every time you use these communication highways, which give you global visibility, 
you must remember that this does not mean that you are exempt from civil and moral obligations such as respect for others and the institutions of your country," explained the President of the Republic, Paul Biya. Already in April 2016, His Excellency Paul Biya recommended to his collaborators and ministers to better communicate on the web about public actions. "The Head of State asked us to be more present on social networks," recalled my colleague Issa Tchiroma Bakary, then Minister of Communication, at a press conference. Responding to these various calls from our President of the Republic, we have therefore chosen to be present on the Internet. A necessary presence to better communicate on all our public actions. My news, the news of my ministerial department, my speeches, my short biography, my opinions and some of my interviews and media outings are gathered in this web page. This, in order to be, as prescribed by the President of the Republic, a patriotic Internet user who works for the development and influence of Cameroon! Have a good surf and feel free to comment or interact with me!
Cameroon's ambition is to be an emerging country!
It is thanks to Decree 2018/191 of 02 March 2018 on the reorganisation of the government by the President of the Republic, His Excellency Paul BIYA, that I am appointed Minister of Finance. I was previously Minister of Economy, Planning and Spatial Planning. I was installed in my new position by the then Prime Minister, Head of Government, Philemon Yang, on 6 March 2018 in Yaounde in the proceedings room of the Ministry of Finance. On 4 January 2019, the President of the Republic renewed his confidence in me through ministerial reorganisation. First of my session in the entrance exam to the National School of Administration and Magistracy (ENAM) in 1981, I graduated as a Civil Administrator, Economics and Finance section. Perhaps we should remember that I was the Major of my promotion in 1983. I strengthened my capacities in France by obtaining a DEA (Diplôme d'études approfondies) in Public Law and a DESS (Diplôme d'études supérieures spécialisées) in international transport in 1985.
"The Cameroonian government is making efforts to attract investments to the country. And thank God, it's starting to produce results… Companies are setting up and it's about attracting more."
The Head of State, His Excellency Paul Biya, President of the Republic of Cameroon, dispatched an emissary to the Central African Republic (CAR) on Wednesday, March 1, 2023, in the person of Mr. Louis Paul Motaze, Minister of Finance. He was to bring a message from...